Lymm May Queen Festival 2005
Saturday 11th June
This year's May Queen was Holly Jones (aged 13) from Lymm High School, and the Rose Queen was Jacqueline Cooper (aged 9) from Statham Primary School.
The festival was a great success and plenty of people came to Lymm to join in the celebrations. The village looked very festive decked out in all the flags and bunting.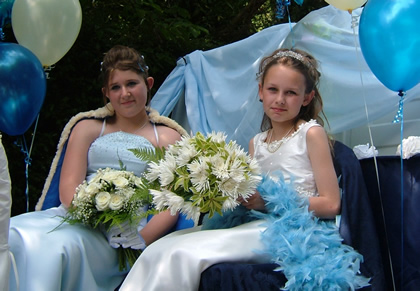 The crowds lined the road in the village centre to cheer on the procession, which made its way to the May Queen field for the entertainment and Crowning Ceremony.
Thanks go to all the organisers, the Police and volunteers who made the day another wonderful event to make people proud to be part of the village.
A special thanks goes out to the kind gentleman who changed the wheel on the Women's Institute car at the last minute, which enabled them to continue entering the parade :-)
To view more photos of the day's events choose a page below:

May Queen 2005 Photographs:
Thanks to Gill Fox for taking the above pictures.