Lymm May Queen
10th June 2000

Lymm village's second week long festival was set in full swing with the Lymm May Queen.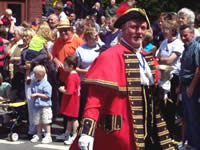 Peter Powell, Lymm's Town Crier annonced the start of the new event at Lymm Cross. (pictured left)
The grand parade one of the main highlights of the day started from the Lymm Hotel at 1.30pm making its way through the village and up Rectory Lane finishing at the Church Green Hotel.