Lymm Dickensian Festival 2003
The smoke rose into the air taking the village back in time, looking around at the people dressed in period costume, with their long dresses and bonnets for the women and the gents in their top hats.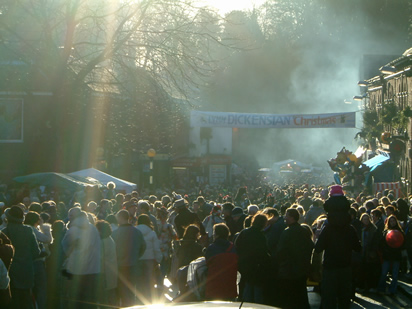 The street entertainers played to the crowd who had gathered in the centre of Lymm for another for another successful Dickensian Christmas party.
The sun shone on a marvellous parade led by Peter Powell our resident town crier. The local Primary Schools dressed up for the occasion and paraded through the village to the sounds of piped bands, accompanied by Morris Dancers, jugglers, Chimney Sweeps and majorettes. The Lymm May Queen and Rose Queen were transported in vintage cars waving to the crowd.
The carnival atmosphere continued with Fire eating, the Bulls Hitters making a rousing rendition to set everyone's feet tapping, in time to the beat Punch and Judy came to entertain the children and Father Christmas threw sweets to the crowd, the children's faces were alight with wonder.
The Victorian Police arrested people, playfully! While today's police did a sterling job with crowd control and re directing the traffic.
A fantastic day was enjoyed by all! Thanks to all who participated, the hard work put in behind the scenes to organise the event to entertain the people of Lymm and the many visitors to the village. Possibly the Best Parade the village has seen!
Lymm Net would like to wish everyone,
A Merry Christmas and Happy New Year!
All images ©2003 Lymm Net. Original digital images available, contact us for further details