Lymm Webcam Applet
Now you can download a whole day in Lymm and view from sunrise to sunset.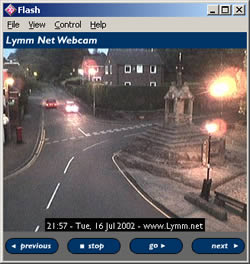 Download the webcam applet
This applet is taken from a Summer day in July 2002 and shows over 400 images taken from the webcam.
You can also control the images, viewing each one individually, or as an animation.
Click here to download the applet. (8.2MB)
Warning: The applet is large, it will take a long time to download on 56K connections.
Click the 'Save as' option when prompted and save to a place easy to find (for example on your desktop).
---

Back to the Webcam

View the current Village temperature

View the archived collection of Webcam images