Lymm Dickensian 2005
10th December 2005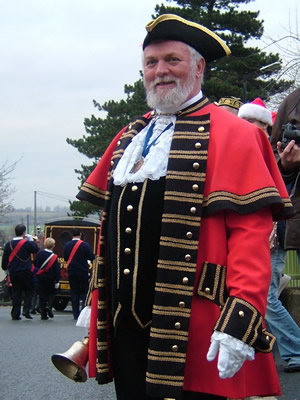 Lymm Dickensian Festival has been an annual event for 20 years and over the years it has grown drawing together vast crowds of all generations to enjoy the street entertainers, including our own Bulls Hitters. They started the day with their rousing rhythm and sound to set the mood for a very successful day.
The children were entertained by Punch and Judy, clowns, jugglers and fire eaters. They also had a chance to have some side show rides and plenty of chance to buy some last minute Christmas presents from the side stalls.
The Amicus singers and the Highlanders Pipe Band gave an atmosphere of festive spirit to one and all.
Peter Powell, Lymm's Town Crier announced the start of the parade. The procession this year seemed to have more steam engines and vintage cars, pleasing the crowd, but making them move back for fear of squashed feet!
The local schools and individuals took part in a fancy dress competition, it would be hard for the judges to decide as everyone looked fabulous, well done!
Of course Father Christmas made an appearance travelling on his sleigh, he was pleased to see such well behaved children and hopes they will remain good until he returns on Christmas Eve weighed down with his many sacks of presents for one and all!
The organisers of the Dickensian Christmas are Peter and Gill Critchley and also Daniella Budd. They have worked with their team of support; to put on some fantastic events over the years, but sadly this is their last event as they are retiring from the post. The village is renowned for its Dickensian Christmas and needs someone else to take the reigns of the organisation. Let's hope someone else has got the strength and enthusiasm to continue with such a successful Festival. Our thanks go to them and their team for a Great Festival and the pleasure they have brought to all generations! Well Done!
Don't forget the carols around the Lymm Cross on Christmas Eve at 7:00pm until 8:00pm.
Lymm.Net would like to take this opportunity to wish every one of its loyal viewers a very Merry Christmas and a Happy and successful New Year. If we have a white Christmas or New Year, watch this site for more photographs!