Festival Picnic
Saturday 16th June 2001 7-10.30pm
Lymm Hall opened its gates to the public for a splendid picnic in the grounds entertained by music to suit all tastes. Lymm Concert Band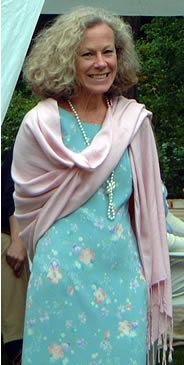 ensemble entertained the crowds and Amicus - a vocal band from the Warrington area who performed an exciting Repertoire in 5 part harmony ranging from Gershwin through to Billy Joel and other popular music.
Jim Hancock compared the evening.
The Cottrill family has lived at Lymm Hall for over 80 years. The hall was mentioned in the Domesday book but the present house dates from the 17th century with remodelling in the 19th century including the redesign of the grounds reducing from 23 acres to now a more modest 10 acres.
The festival started by singing 'Happy Birthday' to Mary Cottrill, wife of Dr Paul Cottrill.
Many people arrived with chairs, tables, blankets and baskets of food and wine even some brought candelabras to adorn their tables.
A successful evening enjoyed by everyone, thanks to the Cottrill family and the festival organisers for allowing everyone to share the secrets of Lymm Hall and beautiful grounds.
A must for next year's festival.
More Photos > Page One | Page Two